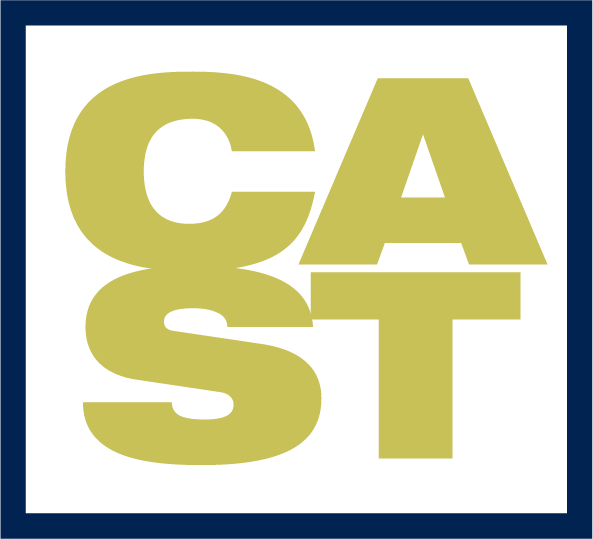 What is CAST?
Coping and Support Training (CAST) is a proven prevention program for middle and high-school-aged youth. It is a 12-lesson skills training program, embedded in a positive-peer group culture, designed for just 6-8 youth. CAST is used across the US and Canada, in schools, community centers, and a wide variety of other youth-oriented agencies. 
The CAST group learns to gain competence and support each other in four skill areas:
Building Self-Esteem
Setting Goals and Monitoring
Decision Making
Personal Control: managing moods, drug use and school smarts
Training & Technical Assistance
How Does it Work?
The CAST Program has been rigorously tested and is included on multiple Evidence-Based Programs listings.
The CAST program begins with an

individual invitation

to join. Youth must be offered an option and not mandated to join CAST.

CAST

is

conducted

in

small

group

s

,

with a

facilitator

-to-student ratio of 1:

6-8

.

A

trained Facilitator

leads

the

CAST group on a weekly or

twice-weekly

schedule

over the course of 6-

12 weeks.

Group structure and process includes

student participation and responsibilities

for decision making and problem solving.

CAST

is a

skills training

curriculum embedded in a

positive peer group

culture.
What are the Goals?
The goals of CAST are to help youth build coping skills, increase time spent in healthy activities, and enhance social support resources. All CAST students are asked to write personal goals related to each of the Program Goal areas:
Increased School Smarts

(including grades, attendance, and attitude)

Increased Mood Management

Increased

Drug

Use Control

(

including

staying drug free

)
Who can Participate?
CAST is designed to serve middle & high school students who:
Are having a poor school experience
Are behind in credits, have slipping grades
Are skipping school or at risk of dropping out
Report depressed mood and/or have had thoughts about suicide
Pay-Offs…
CAST has been shown to reduce suicide-risk behaviors, depression, hopelessness, anxiety, anger, and drug involvement; while increasing school bonding and social support resources (including family support).
Increased Mood Management – depression, hopelessness, anxiety, and anger
Decreased Drug Involvement – alcohol, marijuana, and hard drug use, drug use control problems and adverse drug use consequences
Decreased Suicide Risk Factors – global suicide risk behaviors, ideation, threats, attempts and positive attitudes toward suicide
Increased Protective Factors – personal control, problem-solving and coping, family support, and decreases in school problems (dropouts, absenteeism, and dissatisfaction with school)
Reduction in Hard Drug Usage
Reduction in Suicide Risk Behaviors
Reduction in Dropout Rates
Testimonials
This program will be very beneficial in our schools. It includes great tools and design and is purpose driven.
One day after group, a student stayed after to discuss some of the battles she had overcome since the group started. This student had very poor attendance and poor grades due to her lack of school attendance. She was also depressed and disconnected from school, friends, and family. She stayed after to show me her mid-term report which showed she was now a B student that had only missed 2 days in the last 3 months of school! She had also made a few new friends in CAST which she credited for the positive lift in her day-to-day mood. I felt rewarded as a facilitator to watch her positive progression through CAST and to celebrate her individual successes with her.
[CAST] is a wonderful tool for the district. The curriculum is very thorough and self-explanatory.
CAST members are enthusiastic about coming to CAST each session. Here's just one example: One student began CAST as somewhat of an outsider. He was new to the school and had few friends. He kept mostly to himself and explained during our first session that he didn't need support from others. He said he preferred to do things himself, without asking for help. By session 7, he was asking for help from the group and providing positive feedback to others. One of his teachers reported to me that he had explained to her how much he enjoyed CAST!
This program is wonderful and implementing it at different ages could really benefit society as a whole.
I have seen middle school kids use the skills to really offer support to each other. CAST has connected kids that would not connect in the everyday milieu and is helping them find connections at school. Kids who appear so different are finding commonalities and developing empathy while becoming more aware of their biases and judgmental ideas.
Many of the students I have worked with have struggled with attendance but at the end of our 12 sessions, I was able to give some group members a reward for perfect attendance – what an accomplishment for them!
As a new facilitator, I have enjoyed leading CAST with two different groups. I am motivated by the skills CAST provides the students and the effort the students put forth when they begin to experience success.
CAST offers just what we have been looking for in a prevention program for our at-risk students. It is science-based and brief with proven success!
This program is outstanding and will be super helpful in my work with students and families who are challenged by these issues (mood, drug use, academics).
Program FAQs
What is the difference between RY and CAST programs?
RY Inc.
2022-11-14T07:01:36-07:00
What is the difference between RY and CAST programs?
We get this question all the time: from agencies considering our programs; from sites using one and thinking of adding the other; and from grant writers needing to distinguish between the two programs.
So, what's the difference? Here are the basics:
Reconnecting Youth (RY) is a semester-long CLASS, implemented in the school, as part of the regular schedule, and is offered for credit and a grade. RY was designed for students at risk for school dropout, and we have an algorithm/formula using referrals and student records to determine who "qualifies". RY class size should not exceed 10-12 students. RY has a rich evidence-base as a Tier 3 or Indicated prevention program.
Coping and Support Training (CAST) is a 12-session GROUP, which can be implemented in a variety of locations: schools, mental health agencies, faith-based organizations, juvenile detention centers, private practice, etc. CAST groups should have 6-8 youth max. CAST can be offered as one of the following:
A Universal (Tier 1) prevention program offered* to all youth in a setting, grade or grouping

A Selective (Tier 2) prevention program to youth in at-risk groups (such as 8th graders transitioning to high school, Alaska Native/Native American/First Nation youth, LGBTQIA+ populations, or youth showing signs of risk for school dropout)

An Indicated (Tier 3) prevention program for high-risk individuals identified through screening (e.g., for suicide risk – this is what we did in our studies)
Perhaps more important is what RY and CAST share in common:
Youth should be invited, not assigned to the program.*

Diversity in a class/group in terms of risk factors, gender, age, experience, and strengths are beneficial to the success of all of the individuals in the program.

Life skills are taught, modeled, practiced and applied to real-life situations in and outside of the class/group context.

The emphasis is on developing a positive peer culture and adult support system, both of which bolster personal growth and other protective factors.

Both of the programs' goals are to increase school achievement, drug use control and mood management (by decreasing risk factors and increasing protective factors, such as personal control, problem-solving coping, and support resources).

Anyone can teach either RY or CAST as long as they are passionate about working with at-risk youth and are willing to deliver the program as designed. We've had teachers,administrators, school nurses, counselors, outside mental health agency staff, and well-loved security guards and probation officers teach both RY and CAST!

Training is HIGHLY recommended! These are both evidence-based programs with over 15 years of research to support their outcomes, when delivered with fidelity (i.e., as designed and tested). Training will ensure your implementation readiness.

Both programs change lives!! See our website for multiple national Evidence-Based Programs listings, our published results and numerous testimonials.
*NOTE an invitation and ability to opt out is essential!